Bird Food Garden
Bird Food Garden
Theme Tune – Birdhouse in your soul – They Might Be Giants
Introduction
Having lived on site for a number of years I have observed that the number and diversity of birds has significantly decreased. Over the years I have tried putting out bird food, but corvids (mostly Jackdaws & Magpies) eat all the food before smaller birds get a chance.
It is not only the number of birds that has been decreasing, but also the number of insects.
My aim for the garden is to create a space that will attract a variety of garden birds, providing them with year round food sources and space to shelter and nest. The garden will also be aesthetically pleasing from the house.
Ethics
Earth Share – Use no dig methods, provide habitat for birds and insects, use no chemicals, minimise watering, mulch to feed the soil. Increased Bio-diversity
People Care – minimum maintenance, aesthetically pleasing, appeals to all senses, learn more about garden birds and ignite interest in others.
Future Care – save seeds and cuttings to share with others, share bird observations with others, birds coming to my garden may also visit surrounding areas. Help the local bird and insect populations.
Design Framework – CEAP
Collect information, Evaluate information, Apply Principles & generate design, Plan schedule of Implementation, maintenance and evaluation
Client
Myself
Dates
Design & Planning Stage – Winter 2021
Implementation – Late Winter 2021 Spring 2022
Tools Used
Base Map, Client Survey, Landscape Survey,Vision Board, Budget, Blooming Timeline, Implementation Timeline
Principles Used
Starhawk's Common Sense Permaculture Principles
Resources Used
RHS encyclopaedia of plants & flowers, Garden Design Bible, Tim Newbury, Google Earth, RSPB, Attracting and Feeding Garden Birds, Jen Green, Trip to RHS Bridgewater (in Winter to look at structure)
Yields this project will provide
Practice in creating planting plans
An area with year round interest that provides food and shelter for birds – a multi-function garden area
A better understanding of planting plans
A better understanding of the needs of garden birds
Link to ALP & my personal objectives
I really want to improve my drawing skills, creating clear but colourful plans. This small scale design will enable me to be creative and practice these skills. I will be able to better understand how planting plans are created.
Collect Information
Site Information
I carried out landscape questionnaire , which is summarised below. The full file can be found here.
More or less South Facing, relatively level ground. Ground was previously used as a veg plot, so soil is deep and fertile. Usually drains well, but occasionally has water running through site when rain is particularly heavy.
Surrounded by fruiting native hedges (Holly, Hazel, Guelder Rose, Dog Rose, Blackthorn, Hawthorn) on two sides. Low stone walls on the other two.
Access to lower terrace (Perennial Veg on Hugel, Basket Willow beds, Fruit trees, shrub & tree nursery) & compost heaps. Two small ponds on site.
Visible from living rooms, bedrooms and kitchen.
Rose arbour and stone flags currently in one corner.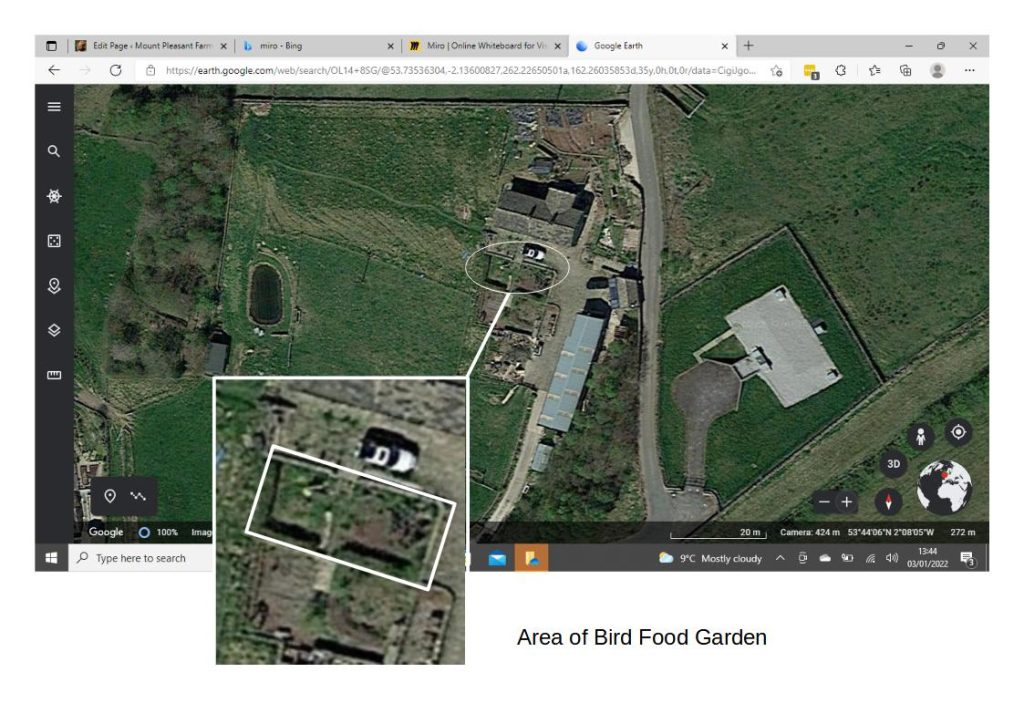 I made a basemap of the site, and then using an Overlay marked out the area of the planned garden that is most visible from my favourite places to sit in the house (View Aspect). I also marked out the areas that are most shaded and where water flows when we have flood events (a couple of times a year).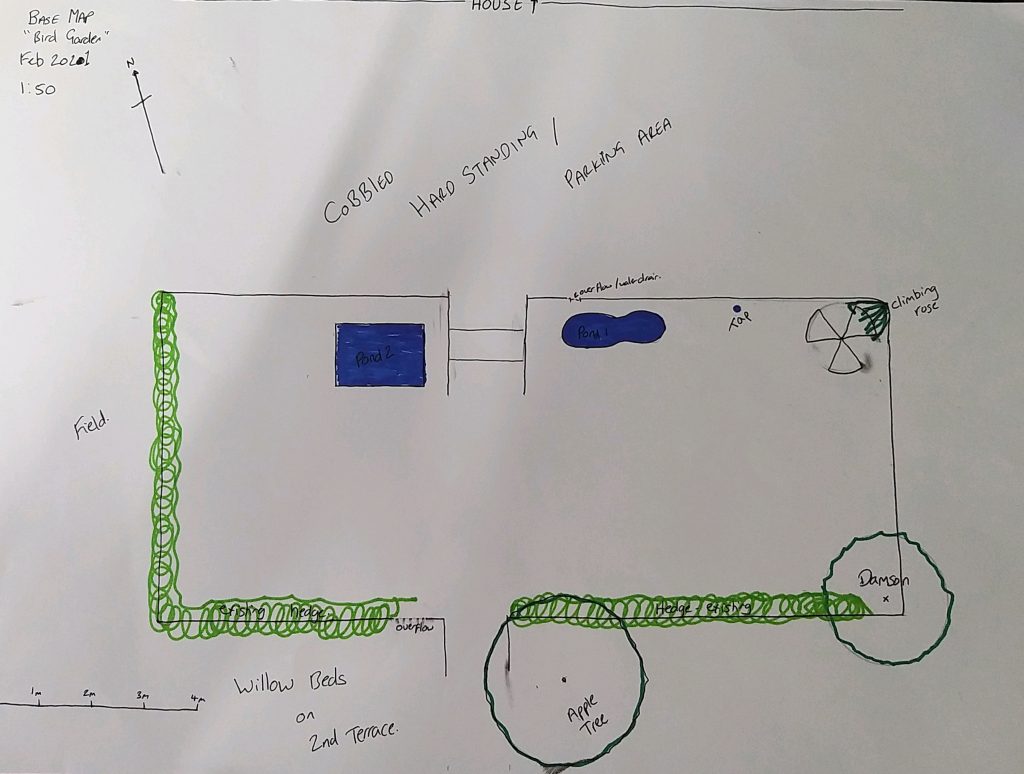 Client Survey
I noted down what I wanted from the design in the format of a Client Questionnaire, which is summarised below. The full survey can be found here.
What do I want?
An area that is full of colour and scent for as much of the year as possible. The planting will be informal, in a cottage garden style. The plant choices will provide seed (or insect food) to feed birds and provide shelter for them to nest or hide from predators.
The design will make use of the existing rose arbour, and will also include a bird bath, a bird table and make use of a metal bedstead that has been salvaged.
What do birds need?
I used a mindmap to gather information about what birds need.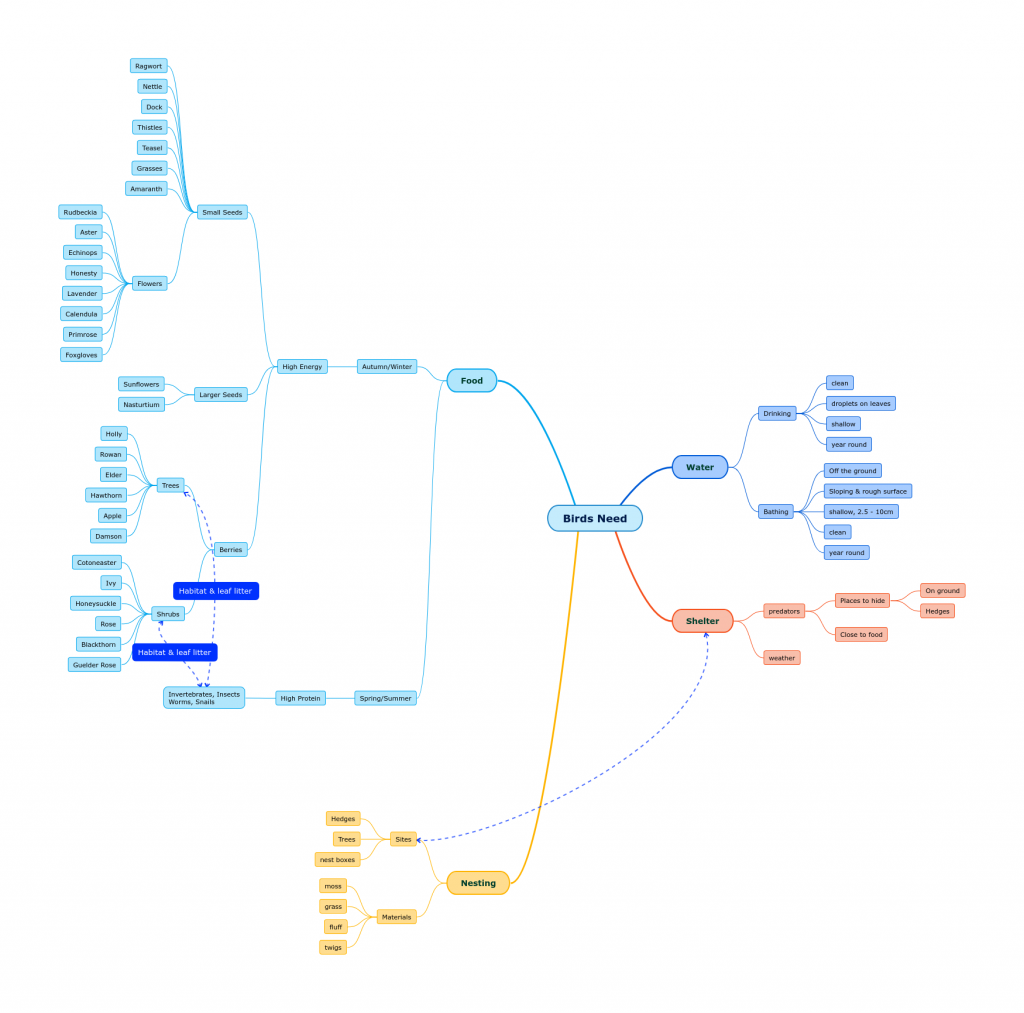 Evaluate Information
Plants
Based of the above mindmap, and with a little more research I came up with a long list of plants that would suit my needs, and put them into a table of flowering/fruiting season and height, and then a second table that split them categories of what they provided for the birds (I suppose this is a bit like a Function/Element Analysis).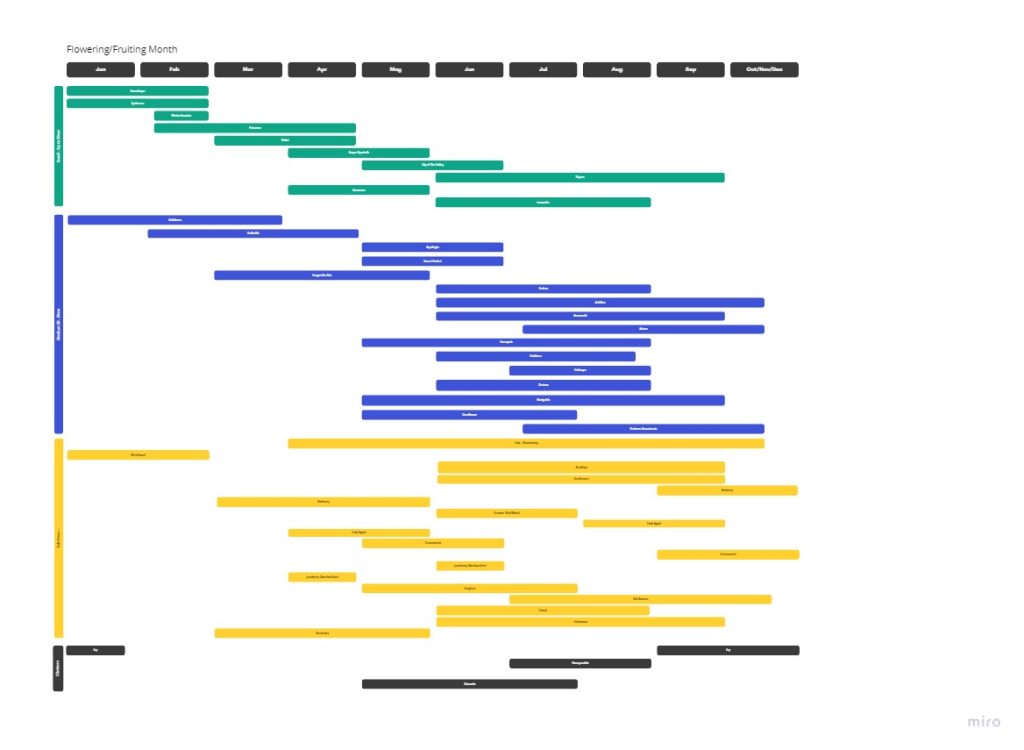 The above ensured I had plants that provided food and interest throughout the seasons, had places for insects and birds to shelter and provided a range of food to suit a variety of birds.
I have been gifted a metal beadstead. I'll use this in the garden to create a 'Flower Bed'. The metal bedhead can be uses a support for climbing plants.
Shelter
The existing hedges provide some shelter and have been used as nesting sites (nests found when pruning in winter). Other trees and shrubs are needed to create shelter islands across the site. The hedges also provide protection from the strong westerly winds.
Wrens and Blue Tits have been seen to nest and roost in the stone walls.
Water
The existing bird bath works well, but needs to be taken down in winter to prevent frost damage.
Birds do use the ponds. The rounded pond has a shallow edge in the middle and has plant cover to protect birds whilst drinking. The large rectangular pond has a floating plank in in to offer a shallow drinking areas. This is a temporary solution, but could be improved with a bit of imagination.
Supplementary feeding
I currently use the arbour to hang feeders, and will continue to do so to supplement the bird food that the garden will provide. I do not have a bird table to provide a safe off ground feeding station for birds that don't like to use hanging feeders.
Apply Principles and generate design
For this design I worked with Starhawk's Common Sense Permaculture Principles as I wanted to use a set of principles I'd not previously worked with, and I like to explore how people's principles differ.
Everything is connected
Problem
Solution & how tools were used to make decision
How will I move around the site?

Have clearly defined paths.
I walked the site and places sticks where I walked to map out the paths.
I need access to the hedge to prune it.
Ensure the paths run alongside the hedges.
I need access to any beds to weed them and sow any annuals.

Ensure paths define the edges of the beds.
I reached over from the paths I had defined to ensure I could reach all areas without stepping on the beds.
When the pond floods, the run off mustn't wash away the flower beds.

Water finds its way….and is powerful.
The land slopes slightly away from the beds towards the path through the centre. I will work with this and accentuate the slope.

On the wild side, I will install rocks and pebbles around the pond which will break the flow. There are no formal flowerbeds on this side, and erosion from water will be minimal as the ground will be permanently covered with wildflowers and grasses.
How will the plants fit together without crowding each other?

On a blank 1:25 scale base map of the site I arranged cut out shapes of the plants that I wanted to see how and where they could fit on the site.
Before sticking them down I could move and select the plants.
I also made a chart of which plants were in flower and when. Early flowering plants can be planted under deciduous trees and shrubs as they will benefit from the winter/early spring sun before the leaves grow. Their growing season ends as the trees leaf up.

In doing this I realised that the site could not accommodate all of the plans I wanted. For example the Berberis would become too large in time and shade many of the flowering plants. I chose not to include this in the design. The Cotoneasters will provide berries and fruits at similar time.
I will not include Rosemary, Amalanchier, Ivy and Sweet Rocket in this design, but will have them elsewhere on our land.
How will I ensure that the soil is fed?

My leaving leaves and detritus to decompose in situ.
By adding a top dressing of compost or manure to the flowerbeds each winter.
Does everything have more than one function?
I carried out a function analysis for all the elements in the design.
See Below.
Certain elements such as the Bird Table are necessary to provide a safe space to feed birds off the ground, protecting them from predators.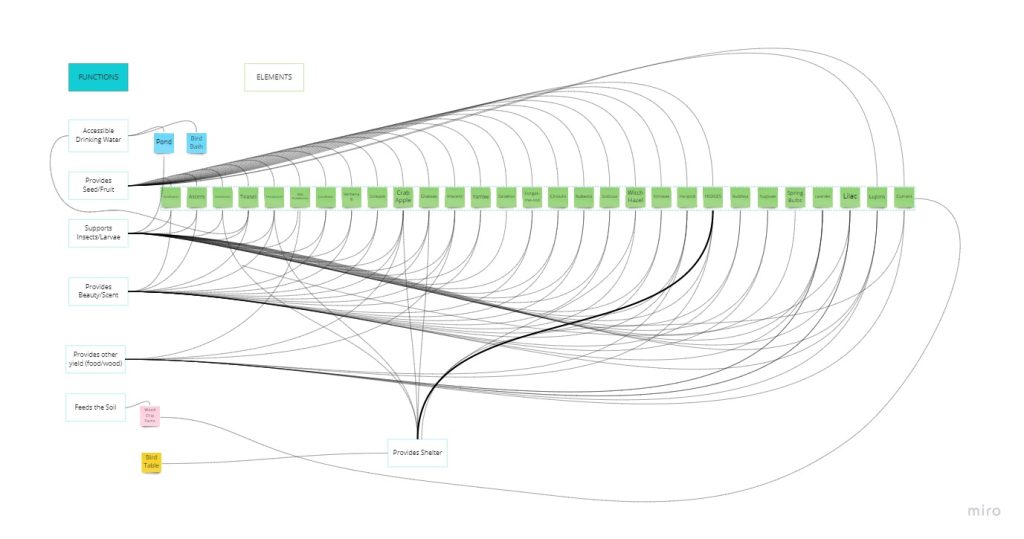 Nature Moves in Circles.
I need to ensure that at the times the birds need extra food, shelter and energy the garden supplies it. I can supplement the grown food with bird feeders.
There needs to be flowers to attract insects and places for caterpillars and grubs to feed in order to provide food for baby birds. The flowering season needs to start early and finish as late as possible.
There needs to be space for birds to shelter and make nests
There needs to be shelter and protein rich (seeds) food in winter.
As plants die back, their leaves and stalks will be left over winter. These will feed the soil, and also provide habitat for insects to feed birds. If I need to remove any detritus in the spring so that seedlings receive sunlight, it will be placed under the hedges
Energy is abundant but not unlimited.
Ensure that plants that need sunshine are planted in the sunniest spots – the overlad above identifies the shadier areas. Planting will be mindful of any taller plants creating shade.
Plant spring bulbs under the hedge to harness the sunlight that reaches this area before the hedges are in leaf.
The hedges will be pruned to ensure they don't get too tall and block sunlight.
Do more with less.
Let nature do the work – Birds will eat caterpillars, snails and some slugs and other pests.
Each plant planted will provide at more than one function. They will look attractive, provide scent, food or cut flowers as well as feeding birds (see above diagram).
Homemade compost will feed the soil as will leaf litter left to decompose from hedges and plants.
Use the donated bedstead to provide structure and quirkiness to the space. Climbing plants can use this as support. It will provide a "flowerbed".
Let plants self seed. If there are too many, these can be dug out and either planted elsewhere, passed on to others or composted.
If it ain't broke, don't fix it.
The round pond and the plants round it work well. The rose arbour and the flags underneath do not need to be changed. The nettles that grow around the edges can remain, and be cut back if they become too unruly. Dandelions will not be weeded out. The way that I manage my hedges works well and I will continue with the same pruning regime (see maintenance section below).
Having a wilder side to the space means that I have less work to do. The contrast also provides interest and the capacity to fit more plants in (as well as saving money).
A neighbour occasionally uses this space to house a bait hive to attract queen bees. Keeping one side free enables me to maintain this relationship.
I may chose to keep ducks in the future, having this wild area with the rectangular pond means I have an area that I can easily fence off.
Resilience is true security.
Diversity creates resilience – by planting a variety of plants; in terms of species, height and flowering season, something will always flower, and create fruit or seed.
I may not plant all of the plants in the first year (time and budget dependant). I will grow some from seed, which will take time. The larger structural plants will be planted first, along with any plants I already have on the land.
Working with the site as two plots, will provide the opportunity to observe how birds interact with more formal vs wild plantings. I have more options to available if I decide to change how the garden works.
Take responsibility:
By encouraging birds into my garden, I need to ensure that I look after them. I need to make sure that bird feeders, bird table and bird bath are kept clean to help prevent disease.
I need to ensure they have spaces to hide from predators and safe spaces to feed and drink.
Get some! Obtain a yield.
The site provides a multitude of yields, not just for the birds, but for me.
I get a beautiful, interesting garden to look at, wafts of scent while gardening or walking round the space and entertainment by watching the birds. I also have the option of eating the edible flowers or fruit, and bringing blooms into the house.
Creativity is an unlimited resource.
I want the site to be fun. The bed frame "flower bed" adds a fun, but functional focal point.
The plants will create a riot of colour in summer, but also have interesting structure in winter.
I need to build a bird table. For this I will use recycled materials, but it needs to be fun as well as functional. Using recycled teapots or tea cups as nest/roost sites or as feeders/drinkers could also add as splash of fun.
Leaving one side 'wild' creates a blank canvas should I want to develop it further.
The Design
I split the design into two sections. A wild side, the ultimate in low maintenance and a side with a more structured planting plan.
To better visualise how the plants would bit together I cut our pictures of the plants I wanted to (sort of scale) and placed them on the plan. I could move them about until I was happy the plants were in a good positon. Then stuck them down. Before sticking them down I used this method to see how the site would change through the seasons, e.g. What was blooming and when.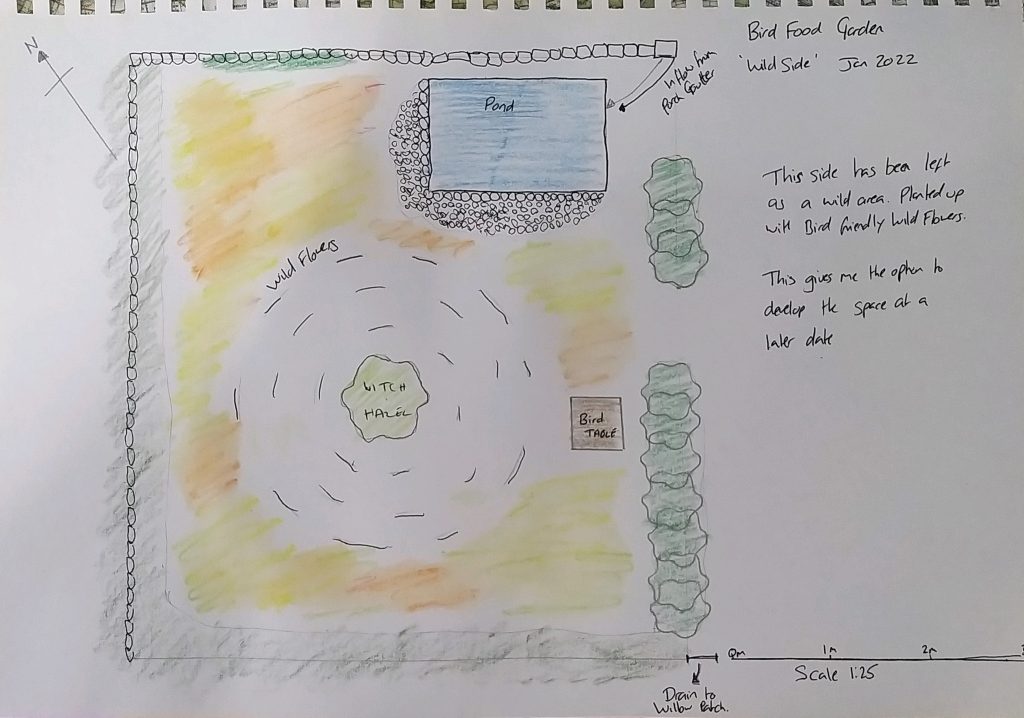 Plan schedule of implementation, budget, maintenance and evaluation
I created a schedule to remind me when I needed to do things. I have not included the bird table on the schedule as this is not time critical.

Budget
I had a budget of £100 for the garden. So far I am (just) underbudget, having used saved seeds and cuttings where possible.
Witch Hazel Tree – £15
Wild Flowers – £14
Spring Bulbs – £10
Bed frame – £0
Bark Chippings £20
Compost/Mulch – £0
Seeds -£10
Plants -£20
Maintenance
The garden is fairly low maintenance, but I have outlined the key things I need to do each season.
Summer
Keep unwanted weeds under control
Water plants if needed
Consider 'Chelsea Chopping' some plants to encourage further flowering
Autumn
Keep unwanted weeds under control
Leave seed heads, berries, fruit & Leaf litter
Winter
Mulch beds
Trim hedges (but leave any rosehips/berries)
Prune Crab Apple if needed
Spring
Trim hedges that were not trimmed in winter
Cut down wild flower stems
Evaluation
TBC
Reflection
As I investigated this project I realised that although the focus was on the small garden areas, our farm as a whole needed to be incorporated into this plan. The lessons learned about insect and bird habitats will be expanded to form an important part of the whole farm plan.
Using a timeline to see when plants would bloom was invaluable. There should be something in bloom most of the year round, and if not in bloom the seed heads will add interest (as well as bird food)
Starhawk's principles were new to me. They were simple, but effective and offered a new perspective.
My original plan was to hand draw a beautiful garden plan, but I got frustrated with the process. I looked for another approach. Cutting out pictures and 'building' my garden as a collage was fun and interactive. Putting a bloom to a name was so much more informative than the name of the plant alone.