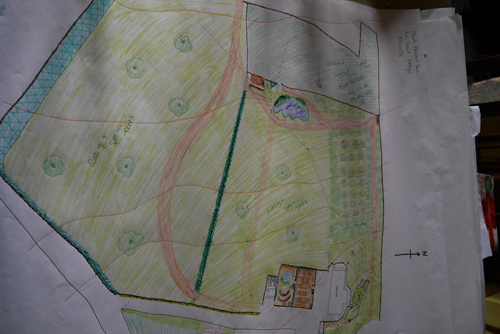 The Grand Plan!
The Grand Plan!
So, after much measuring, deliberation, thinking, poking, drinking of wine and general musings, I came up with a workable plan!
I had several iterations with lovely cascading ponds, swales and orchards, but reality wins every time; so, here it is, my grand plan!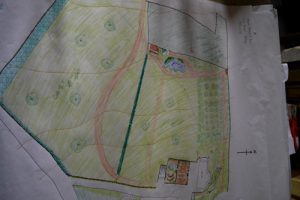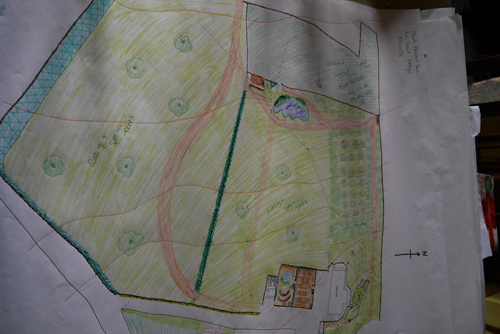 So, what does it contain?
Woodland & Trees
Existing
We have about an acre of existing woodland, split over 2 sites. The lower woodland is a mix of Hazel, Ash, Holly, Rowan, Oak, Willow and Cherry; the upper woodland is mainly Birch, Oak and Rowan. The lower woodland contains existing pig enclosures, water and housing.
Our plan is to keep pigs in the lower woodland as the infrastructure is already in place. We will coppice where appropriate, and have allocated an area near the lower woodland for log piles. We also have a terrace of hard standing that will hold containers for wood chippings and mulching materials.
New Planting
On the Northern side of the upper most field we plan to plant willow and another tree for fire wood (and potentially craft or garden materials). We considered Coppice Ash as our favoured wood, but in recent years our area has stared to see Ash doe back disease, so at this time, we thing that this would be a bad idea. We are also considering Wych Elm; as it will be coppiced, it shouldn't mature to the age where Dutch Elm disease would be a problem. To be honest, no decision has been made yet, we just know it will be a bit like a Jam doughnut with Pollard Willow round the extremities and a different coppice middle. Why Pollard round the extremities? Ease of access.
As well as providing fuel this area will provide wind protection from the westerly winds for an area of fruit trees, shrubs and other perennials.
In one area of Willow Pollard will be fenced to allow our new addition Peggy the Schnoodle to play amongst the trees.
Trees and Grazing
We don't have a great deal of grazing land, so were keen not to lose to much of it. Also having kept the neighbours cattle off one half of the land this year, we were astonished by the array of grasses and wild flowers that our fields held. This is something we want to encourage more of and not change drastically.
However, being silty clay soil on top of a thick clay sub-soil (and in an area that is determined to turn into peat bogs), the ground is quickly waterlogged. Our solution? To plant specimen trees throughout the pasture land – the roots will help drive channels through the clay and in theory help to drain some of the water away, absorb some water to feed the tree but also help to stabilise the soil. The trees will also help to protect livestock once they reach maturity.
Windbreak and Hedgerow
Our Southern and South-Western boundaries are currently post & rail fencing. This offers little protection from the elements.
I planted hedgerow trees last year along our middle field boundary, and these are coming along well. I plan to plant more hedgerow along the southern border and behind the neighbours farm.
A more substantial three row windbreak will be planted along the exposed South-Western boundary. My first thoughts are to plant
Trees: Grey Alder, Scots Pine, Willow
Large Shrubs: Hawthorn; Elder
Smaller Shrubs: Gorse; Rose
As you will notice thorns feature heavily in the hope that one mature they will provide some protection from grazing animals.
Ponds
Putting in a series of ponds would have been an engineering nightmare considering the steepness of our slopes; it would also have meant a loss of grazing land. We compromised by having one large pond at the lower end of the slope.
Too much water as opposed to too little is our problem, especially after a heavy deluge. We have a drain that flows down the field, which after a heavy deluge is really powerful, Having this power enter a pond would pose many problems. Our current thinking is that the drain will run through a large pipe down the field bypassing the pond, but entering another pondlet (sort of a wide bit of drain) that currently exists below the proposed pond. A smaller bore pipe will run alongside the wide pipe, but will enter the pond, creating less disturbance. The pond's overflow will lead to the existing pondlet, and excess water will continue along the drain. The pond should also fill from the large amount of rain water we receive and ground seepage.
I plan to put some sort of fence around the pond to protect it from trampling cattle (owned by the neighbour, but currently grazing our land). I will also plant rushes, reeds and marginal plants to attract wildlife and for use as mulch.
Nearer the house on one of our terraces a dedicated duck pond will be built. This is near to our polytunnel and veg plot, so hopefully the lucky duckies will scoff massive amounts of slugs. Indian Runners and Crested ducks are favourite at the moment. I just keep thinking of the cakes I can make (and eat) from the lovely eggs.
Animals
As well as the aforementioned ducks, we aim to get pigs once again as we have the infrastructure in place already. We have also re-built a field shelter, and installed an area that can be used as a farrowing shed should we start to breed pigs. My aim is to mob graze either small cattle such as Dexters or some rare breed sheep, but this a year or so down the line. Chickens in a mobile run will be with us before long, so looking forward to incubating chicks again, it's such a magical process. We have foxes in the area, so both ducks and chickens will be protected by electric netting (when they're not in the garden with me).
Lots of lovely manure and bedding for the compost heap.
Fruit and Veg
We had existing raised beds, but they were ancient and the wood had mostly rotted away.  I've ripped these out and re-arranged them to form a series of 5 keyhole beds, making best use of the space available. There is a massive gap in the middle that I can't do anything with as when it rains heavily, I have a temporary river flowing across the terrace. The edges of this "river bed" will be planted with blueberries and cranberries, and they should be able to cope with the intermittent soakings.
On the second terrace are existing compost bins, but along with duck housing and pond I hope to put in a couple of hugels. This terrace gets really waterlogged, so hugels should work well. NOt sure what to plant on them yet, I just fancy trying to build them!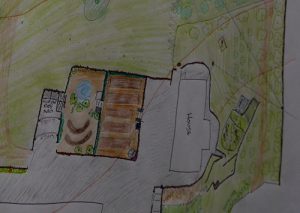 Behind the house is about a quarter acre of land that had really poor soil. We have had a lot of building work done and diggers and dumpers had really churned it up. There wasn't really any top soil here. We bought in some top soil, but it is really light, so I've planted some field beans as green manure to try and knit the soil together, add nutrients and when slashed, it should break down and start to build soil. This area will contain fruit trees, bushes, bamboos (wind protection and garden materials), perennial veg and herbs. Part of the area is on a flat roof over our boiler room, this area will be a sedum roof and patio area. I also have an existing greenhouse here, which I'll use to propagate seeds, but also act as protection for tender plants – I have a quince that is struggling. I may move it to behind the greenhouse and see how it does. May be I'll even try a grapevine in the greenhouse?!
I am really looking forward to sitting in the evening sun, gin in hand and looking at things growing around me. I think a fire-bowl will have to be built (May be even a hot tub/Japanese bath will be built in the future).
So many trees need planting, I think I may need a WWOOFer! Christmas presents for me this year are being forfeit in exchange for lots of trees and bushes.
Off to calculate how many I need….