Community Forest Garden
Community Forest Garden
Introduction
Longfield Road Community Orchard Group (LCOG) currently have two sites, and tend the neglected mini and not so mini orchards Incredible Edible planted over ten years ago on council land.
Their aim is
"To bring people together and build community through our meeting, to use permaculture principles and systems in our work that have sound horticultural foundations, to work with nature to yield super rich and diverse habitats that are able to feed and nourish in all the ways, to learn and share our knowledge, to have a good time whilst doing all of above!"
This design focuses on the 'New' Site between the canal and railway track near Dobroyd Road. Permission to use the land has been granted by land owner, Lorna Beaird.
The boundaries of the design focus on the land, it does not design the human side of the project.
Ethics
Earth Care – No dig, feeding the soil, creating habitats, minimal input, use on-site resources & keep resources on site
People Care – social space, awareness, access to site, inclusion in design, provide a space to socialise, celebrate & share knowledge
Fair Share – inclusion in design, awareness, share the harvests, enable transfer of knowledge through learning from those skilled in relevant aspects of soil and plant stewardship.
Principles used to guide design
Mollison
Work with nature rather than against
Make the least change for the greatest possible effect
The problem is the solution
The yield of a system is theoretically unlimited
Everything gardens (or modifies its environment)
Design Framework – SADIM
Survey, Analyse, Decisions, Implement, Maintain
Client
Longfield Road Community Orchard Group
Dates
October 2020 – Spring 2021
Tools Used
Walking the site, Compass & Tape Measure, Vision Board, Client Interview, Zoning, PASE Survey, Overlays, Sun Sector (SunCalc), SWOC, Soil Analysis, Web of Connections, Functions/Elements/Yields
Resources Used
Google Earth, Patrick Whitefield – Earth Care Manual, Jasmine Dale – Permaculture Design Companion, PlantNet App, MySoil App, How to grow Perennial Vegetables – Martin Crawford, Farming the Woods – Mudge & Gabriel, How to make a forest Garden – Whitefield
Link to Personal Objectives
This design fits my personal criteria of…
Become fluent in the use and application of design tools and Permaculture principles
Become confident enough to demonstrate and explain to others how Permaculture can be applied to both land non-land based projects
Become less isolated, and build links with my local community
For my designs to be easily read and understood by someone new to the concept of Permaculture
To improve my drawing skills (freehand and computer)
A formal questionnaire was completed by Karl Roscoe (Group Lead), and is attached as appendix 1.
The wider group were asked the following questions. Their responses are attached as an appendix 2.
What would this project have to be like so you can say 'Yes! I am so pleased I worked on this project'
When you imagine the site in 5 or 10 years, what do you see?
How do you imagine people interacting with the site?
The outcome from the questionnaires is summarised below:
The space should be designed to…
Encourage Biodiversity
Grow food
Be attractive to all the senses
Be experimental
Enable the transfer of knowledge
Be inclusive
Bring people together
Produce minimal waste
Need minimal human intervention
Be sustainable at a minimum, but preferably regenerative
Vision Board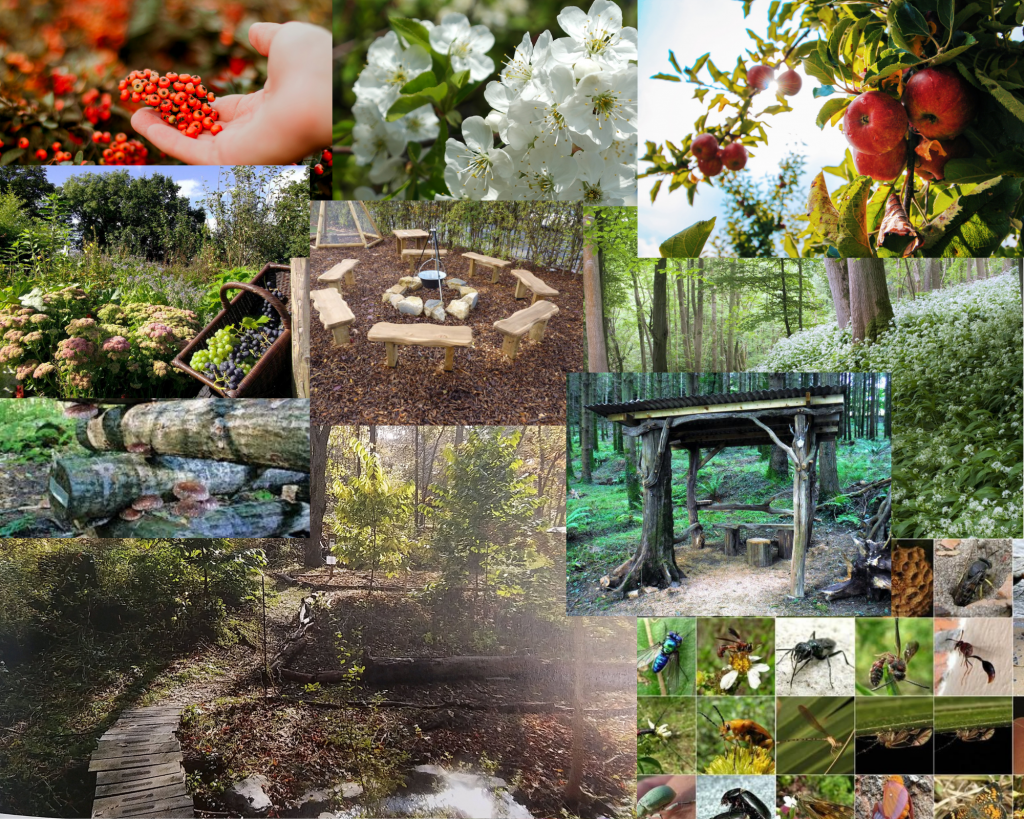 More details about the site survey can be found on the Survey Page.
I under took a Sector Analysis of the site followed by a Functions & Elements Analysis which helped me to understand how the needs of the project can be best met, and how links could be made between the different functions and elements.
Details of these analysis and further analysis of different elements can be found here.
Mollison's Principles
The problem is the solution
Work with nature rather than against
Make the least change for the greatest possible effect
The yield of a system is theoretically unlimited
Everything gardens (or modifies its environment)
Ethics Considered – Earth Care (EC), Fair Share (FS), People Care (PC)
Principle
Decision
The problem is the solution
Shade: Plant appropriate plants for the location (EC); Perfect conditions to farm fungi (PC/FS); Trees provide materials & mulch (EC)
Wet: Frogs are abundant, and act as pest control (EC); Use appropriate plants and planting techniques (EC); Minimal irrigation needed (EC); Add paths to keep people from churning up site (EC/PC); Collecting & using rainwater will help a little (EC/PC)
Abundant Brambles & brash: Use these to form a brash hedge (EC)
Site looks unused & is prone to littering: Clear & informative signage (PC/FS); Make site look beautiful, add flowers & paths (PC/FS/EC)
Work with nature rather than against it
Keep native plants on site & incorporate them into the design (EC)
Use appropriate plants for the conditions (EC)
Take advantage of the sunlight (EC/PC)
Keep water in the ground to reduce need for irrigation, but use appropriate plants or planting techniques. This also keeps the frogs happy. (EC)
Mulch plants to feed the soil. (EC)
Keep photographic/film records of progress. Nature moves slowly & humans forget quickly. By recording we will better understand our impact. (EC/FS/PC)
Use natural materials for paths that will eventually add to soil fertility. (EC/PC)
Make the least change for the greatest possible effect
Make small and simple changes first. (PC)
Identify which small changes will have greatest impact and prioritise these. (PC/EC)
Record what effects changes have had (FS/PC/EC)
Identify which native plants on the site can be foraged for food (or other purposes) (PC/EC)
Include native plants in harvesting signage/guides (PC/EC/FS)
Increase seclusion of compost bays to enable them to be used as urinals (PC/EC)
The yield of a system is theoretically unlimited
Identify and inform about physical yields from plants. e.g. what is edible & when to harvest (PC/EC/FS)
Having a space to sit, observe & discuss will increase our knowlegde (PC/FS/EC)
Save seeds & take cuttings (FS/EC/PC)
Celebrate the harvests (FS/PC)
Share preserving & cooking skills (FS/PC)
Record harvests (PC/FS)
Include aesthetics in the design (PC/FS)
Everything gardens or modifies its environment
Large trees provide mulch, shade &, wood and absorb water; they provide the perfect conditions to grow Mushrooms (EC/PC)
Climbing plants add vertical interest at eye level (PC/EC); A fence of climbers can provide food; security; beauty & biodiversity (EC/PC)
Wildlife: Frogs eat the slugs & flies; birds eat pests and distribute seeds & berries (EC/FS)
Plants: Grow in appropriate conditions – use as indicator species (EC/FS)
Volunteers: Manage the balance between cultivated plants and native plants; Make compost; Can build structures & paths; Spread knowledge (EC/PC/FS)
How the principles and ethics have guided the design
Further information about the design and final decisions can be found here.
Implementation
I have created an Implementation plan using Miro. This enables others to collaborate and easily see the implementation plan.
https://miro.com/app/board/o9J_lY40o_M=/?invite_link_id=462400611361
Progress in pictures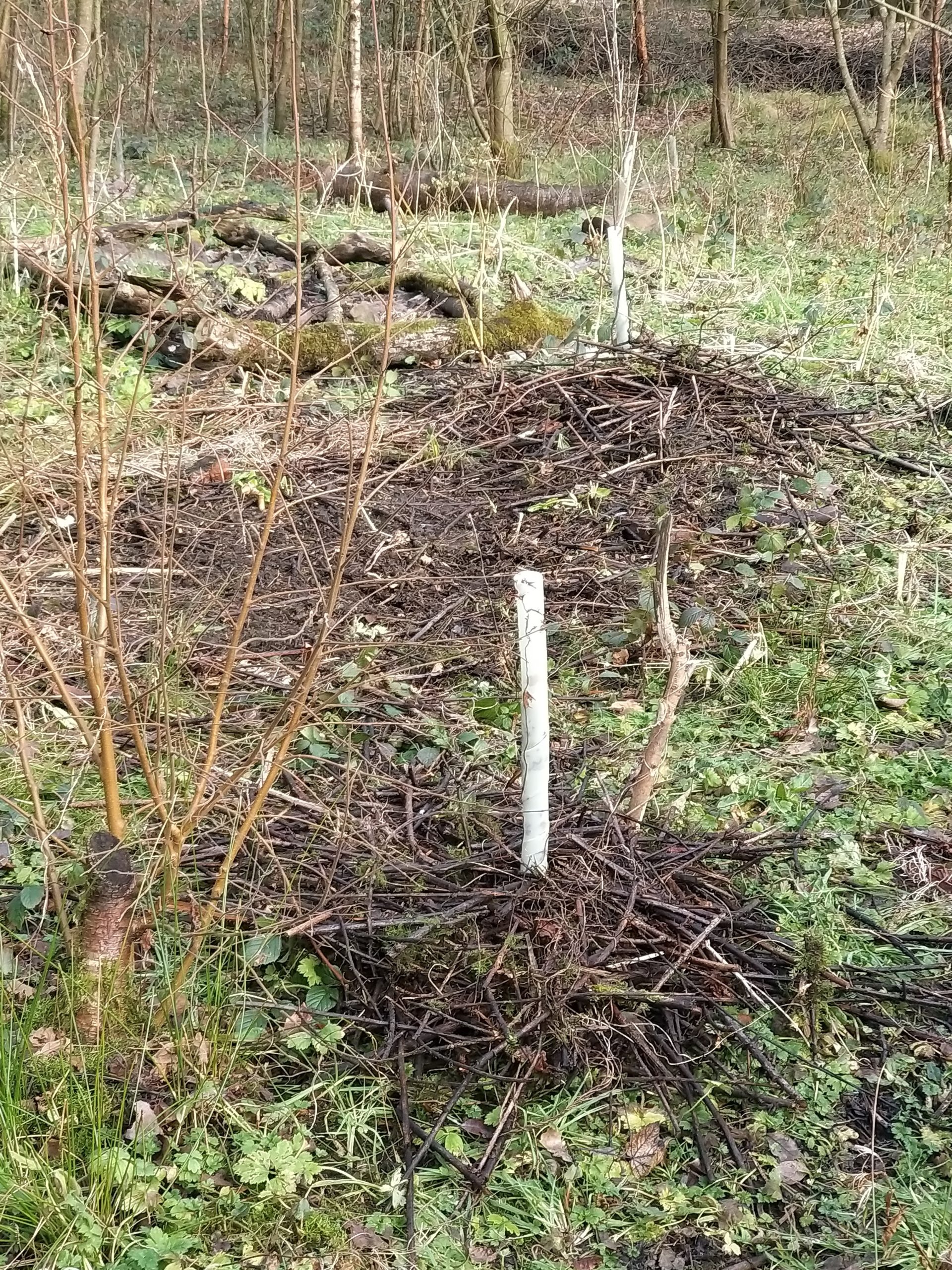 More photos of the work we have been doing can be found on the groups Facebook Page.
Maintenance & Monitoring
Maintenance Schedule
Spring
Summer
Autumn
Winter
FRUIT TREES
Weed
Prune Plum Trees
Weed
Weed
Prune and Mulch Apple Tress
COMPOST
Build
Build
Turn Compost
Rest
FRUIT BUSHES
Mulch
Weed
Prune & Weed
Mulch
GROWING AREAS
Weed
Prepare for Sowing
Weed
Continue Sowings
Weed
Mulch
PATHS
Keep Clear
Define
Keep Clear
Build
INVASIVE WEEDS
Remove unwanted Brambles

Pull Up Balsam Before Flowering
Pull Up Bindweed
Cut back Hedge Mustard
Pull Up Balsam Before Flowering
BOUNDARIES
Plant Climbers
Maintain Brash
Weave in Brambles
Plant Willow Whips
Prune living hedges if needed
RECORDS
Observe/compare Wild Garlic, Hedge Mustard and Bistort Harvests year on year (measure/map patches)
Photo Record
Record Veg & soft fruit Harvests (scale score 0 – 5)
5 is great!
Photo Record Site
Record Apple variety Harvests (scale score)
Add Site Photos to Repository
PEOPLE
Spring Festival
Monthly Social
Summer Picnic
Monthly Social
Apple Day
Monthly Social
Wassail
Monthly Social

Evaluation
I believe that the design will fulfil all the requirements in time. A slow and steady approach is being taken.
The design was completed by the deadline of Spring 2021.
Being a community design I had hoped for a more collaborative approach to the design, but Covid as well as the fluid nature of the volunteers meant that the design was mainly drawn up by myself and presented to Karl and the rest of the team. Feedback was minimal, but well received, and is being followed in a slow but steady manner.
Our Implementation plan may have been a bit optimistic. We will be reviewing and updating this in Spring 2022.
I matched the design against the criteria extracted from the brief. The results can be found in this document.
The group has a Facebook Page, and our activity is publicised here.
Reflection at the end of 2021 Season
The design has largely been implemeted, and a collaborative approach to tweaks and planting decisons have been wonderful. It is so nice to chat with other people and made decisions together.
Tweaks made
We have decided that paths will simply be strimmed or scythed regularly as we had trouble getting the quantity of woodchip needed.
We have a resident greenwoodworker who has set up their work area in the centre of the site. This means that our original plan for a social area in the centre has changed. There is a lovely spot on the North East boundary that will become our new social area.
Next Steps
Split the site into different sections (on paper), and have some way of recording what jobs need doing, where they need doing (hence the sectioning), and if work has been done, by whom and when. We also need clear signage to publicise what we are doing on the site.
Update and review the original Implememtation Plan. What do we want to change?
Build the compost bays.
Move the social area.
Create a way of recording our harvests.
Restart the monthly socials!
Reflection
What have I learned from this design?
Using SADIM provided a methodical way to approach the design and created a clear way to present the findings back to the group.
I set out to draw a really 'nice' design for the site. In practice, a basic chunked plan sufficed; however, this was backed up with pictures, research and detailed information.
Vision boards were a great way of creating a visual reminder of what everyone wanted from the site. An inspiration for our hard work.
I set out to design this in a more collaborative way. This didn't happen, but I hope to work more collaboratively on future designs. I did get input from a number of members about what they wanted from the site, and also worked with a couple of people to map and measure the site. Implementation, planting and pollarding decisions are made with discussion on site at the time of action.
Mapping in an area of dense tree cover is tricky.
I learned much about forest gardening and shade loving plants that will be useful for future projects.