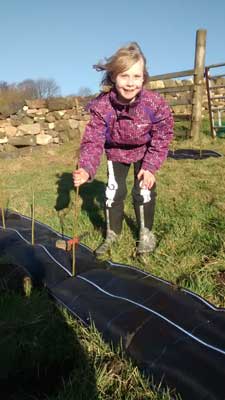 Breaking Wind (Part 1)
Breaking Wind (Part 1)
Where we live is quite exposed and we get hit by serious westerly winds.
One of the first jobs on my to do list was to plant a fast growing wind break to protect my planned precious fruit trees and bushes.
I've opted for a single width Willow (Salix Viminalis) hedge. This will have an second row of Chaenomeles (Japanese Quince) and Crab Apple (on the leeward side). This will provide both fruit, pollination partners and will have really pretty blossoms. It is important to me that my endeavours are aesthetically pleasing as well as practical.
The area of field behind the Willow will be planted with Hazel, Wych Elm and more Willow for firewood production. These will provide further wind protection, which is why I felt a single row would be sufficient. If this proves not to be the case, I can always plant further rows at a later date.
So, on a crisp and sunny day I and my able assistant (initially dressed as The BFG – for only reasons an 8 year old would understand) headed for the field armed with lump hammer and a bit of rebar.