Mapping – not just about coloured pens
Mapping – not just about coloured pens
Mapping our land isn't just an excuse to buy and use a new set of coloured pens (honest).
Watched with amusement from Brian our friendly walling expert I set about measuring the earthworks behind our house and combined my findings with scaled up OS Map tracings. Drawing and maths aren't my strong points, so mapping was one of the areas I was nervous about remembering what to do, and whether I'd get it right.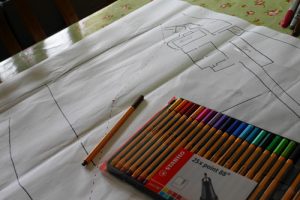 I now had a huge base map of our farm and all the structures on it. It may not be dead accurate but for my purposes, it's great.
Next step was looking at contours – For now I've just used the OS contours and marked on any areas that are particularly steep or tricky. I've not used any measuring equipment, but will do this when we come to place ponds and other features.
I took some pictures to try and capture the slopes we are dealing with.